Learn More About Our Founder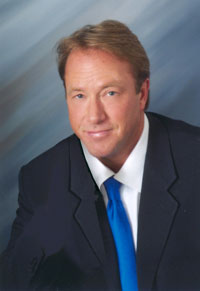 Over the past years many people have asked me: "How did you get involved in the retail merchandising display business?" Well, like any business there is always a spark that lights the fire of success. In high school I started a house painting business. One of my biggest frustrations with the job was removing paint from glass. To help with this task I invented a small holder for a single edge razor blade that was not only great for window scraping but other cutter/scraper chores as well. I then patented and trademarked the Blade Ade®. When I was 20 years old I began selling the Blade Ade® to many national and regional chains across the country. To this date over 30 million have been sold.
All through my 20's I developed more cutting/scraping and painting tools along with importing other razor blade products. I eventually began producing these products in the neon color that has now become the standard in the hand tool industry. Not only was I involved in inventing, producing, ordering and selling these products I was also interested in how these products were merchandised.
As many CPG companies know, it can be extremely difficult to get placement in a retailer's P.O.G. so I started to focus on how I could merchandise my products by utilizing unused air space on plan-o-grams for permanent merchandising whether it be in-line or crossed over to another area/department. I wanted something that would hold more products and be more durable than the standard clip strips or cardboard floor displays. I went on to develop and patent what I call PowerStrips and SwingStrips®, which are semi-hollow plastic strips with holes that can hold peg hooks. When I presented my line of blade products to buyers and retailers they said; "Tom, we like your hand tools but we love your display fixture...can we buy those separately?" The three questions that immediately came out of my mouth were; how many? What color? And when do you want them shipped?
From that point on I realized that there was a need in the marketplace for better merchandising displays in general that captured unused air space for promotional in-line sales and permanent secondary opportunities. I began developing and patenting cutting edge displays that attach to gondolas, floor displays, and creative store décor/navigational way-finding sign systems.
I look back on my beginnings with a sense of pride and gratitude that a high school painting business sparked my creative instincts and landed me in the fire of the in-store marketing industry. I have been on a rampage developing and patenting all types of permanent and semi-permanent promotional display fixtures and sign holders. If a customer has a challenging design need that I can't fill with one of our stock programs, I will create a new one!
I will always have innovative "Ideas for Space" that create high impact and visually exciting experiences for the shoppers; providing a fast return on investment while increasing sales and profits.
Sincerely,
Thomas M. Shea, President